Wheel is powered by Vocal creators. You support
Kyle Foster
by reading, sharing and tipping stories...
more
Wheel is powered by Vocal.
Vocal is a platform that provides storytelling tools and engaged communities for writers, musicians, filmmakers, podcasters, and other creators to get discovered and fund their creativity.
How does Vocal work?
Creators share their stories on Vocal's communities. In return, creators earn money when they are tipped and when their stories are read.
How do I join Vocal?
Vocal welcomes creators of all shapes and sizes. Join for free and start creating.
To learn more about Vocal, visit our resources.
Show less
Eight Journeymen NASCAR Drivers Who Deserve a Shot
These racers have paid their dues, and it's time to see what they can do in top equipment.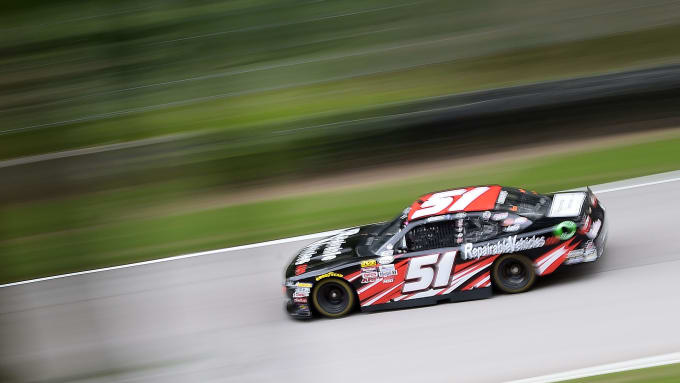 A journeyman is defined by the dictionary as a "worker or sports player who is reliable but not outstanding." When it comes to NASCAR, that's not entirely true. Any driver that reaches a top level in Motorsports already has proven an exceptional amount of talent, but it mainly boils down to a race team's funding in judging how well a driver can truly perform. These drivers have shown through their consistency. over performance in sub-par equipment, and glimpses of excellence in one off race deals that they deserve a better shot to compete for wins, and even championships at NASCAR's top three levels.
Jeremy Clements
Jeremy Clements has ran for his family owned team full time in the Xfinity Series since 2011. He would surprisingly wheel his underfunded team to a couple of top 10 finishes a year, but nothing can compare to winning the 2017 Johnsonville 180 at Road America on excellent pit strategy and overcoming a thrilling battle and spin with Matt Tifft. It's one thing to over-perform on a low budget, but to win? That is something to take notice of, and I have no doubt Clements would be competing for an Xfinity series championship with a better team.
Michael McDowell
"Journeyman driver" and "Michael McDowell" are nearly synonymous at this point. He came into NASCAR in late 2007 driving for the still new and developing Michael Waltrip Racing, and has bounced around through numerous teams since. He is perhaps best known for his vicious 2008 qualifying crash at Texas, which he miraculously walked away from, but no one should overlook is driving ability. He's shown success in some earlier races driving for Jo Gibbs in Xfinity, and also scored a win for Richard Childress in the 2016 Xfinity race at Road America. A lot of fans may not know McDowell got his start in open wheel and road racing, competing in Star Mazda in 2003-2004 and Grand-Am in 2005. This would explain his impressive showings at road courses, but I think McDowell would be a good fit for a team such as RCR and show off what he can do at all types of race tracks.

Landon Cassill
Much like McDowell, Landon Cassill has bounced around from one underfunded team to another for the last ten years. He came onto the scene as a Hendrick development driver at age 18. Unfortunately he wasn't able to produce the expected finishes of such as high quality team, but he remains a mainstay in the Cup series. He takes care of his equipment, and deserves another shot in with a top team.
Matt DiBenedetto
DiBenedetto has become a favorite among fans because of his social media presence and perhaps because of his unusual last name (DiBurrito as he's affectionately called). But his talent may have something to do with it too. After showing success in Late Models at the famed Hickory Motor Speedway, he began making his way through NASCAR and currently pilots the #32 Ford for GoFas Racing in Cup. He's tallied some respectable finishes for a team with under 10 employees, and with better resources I could see DiBenedetto competing for top 10s and wins every week.
Timmy Hill
When was the last time you saw a caution come out for Timmy Hill? Upon scanning his statistics on racing reference, only one of his 74 Cup starts as of this writing has he retired due to a crash. He is clean and consistent, and is putting Carl Long's severely underfunded #66 car in the field and finishing races. He's not flashy, but he's shown he can get the job done. He's never had a shot with a well funded team, and I'd love to see what he's capable of.
Ross Chastain
What Ross Chastain has done in 2018 so far is amazing. He drives for Johnny Davis in the Xfinity series, a team that normally fields drivers who average finishes in the 20s, but Chastain is maintaining a finishing average of just under 16th this year. Some of his good finishes come down to pure driving, not just from dodging "the big one" at restrictor plate tracks or getting lucky on pit strategy. He's well on his way to making the Xfinity playoffs, and it was just recently announced that he's signed a three race deal with Chip Ginassi Racing in the Xfinity series for upcoming races. That's a great opportunity for him, but even better would be a full time opportunity with a team of that caliber.
Parker Kligermann
In 2009, Parker Kligermann scored nine wins and a runner-up finish in the ARCA championship, and sat on the pole for his Xfinity series debut. However, after a couple up and down years with with BK Racing in Trucks, a mediocre stint with Kyle Busch Motorsports in Xfinity, and a failed rookie of the year attempt in Cup, we see Kligerman as an NBC pit reporter and analyst more often than we see him on the track. He does a great job with NBC, but I'm sure he is still a racer at heart. He's also proven he can still win, driving the #75 Henderson Motorsports entry to victory in the 2017 Talladega Truck race. He still races for the team part time and will make other one off appearances, but it would be great to see Parker back in a full time ride competing for wins on a regular basis.
Austin Theriault
A champion in 2017. Rideless in 2018. Drivers losing rides due to lack of funding and/or sponsorship is an all too common occurrence in Motorsports these days, and there's not a more striking example than Austin Theriault. He cruised to the 2017 ARCA championship with seven victories and an average finish of 4.2, but could not secure a full time ride for the next year. Theriault saw some successful driving part time for Brad Keselowski Racing in the Truck series in 2015, but a back injury after a hard crash at Las Vegas may have set him back a bit. Today though, he's a proven champion and deserves to showcase his talents at one of NASCAR's top levels again.