Wheel is powered by Vocal.
Vocal is a platform that provides storytelling tools and engaged communities for writers, musicians, filmmakers, podcasters, and other creators to get discovered and fund their creativity.
How does Vocal work?
Creators share their stories on Vocal's communities. In return, creators earn money when they are tipped and when their stories are read.
How do I join Vocal?
Vocal welcomes creators of all shapes and sizes. Join for free and start creating.
To learn more about Vocal, visit our resources.
Show less
Best Classic British Sports Cars
Move over, Italy! Classic British sports cars are what dreams are made of and could bring the Anglophile out in any of us.
When it comes to sports cars, most people automatically start thinking of car brands like Ferrari, Maserati, or Porsche. British car brands? Not so much—and if you ask me, that's criminal. 
Over the years, Britain has made some very reliable sports cars. Some of them have won awards, rallies, or races. They have a style all their own, and honestly, they always look like they're fit for a Queen. (See what we did there?) 
Today, we're going to celebrate some of the finest classic British sports cars in history. Wouldn't you want to drive one of these beauties below?
Jaguar XKE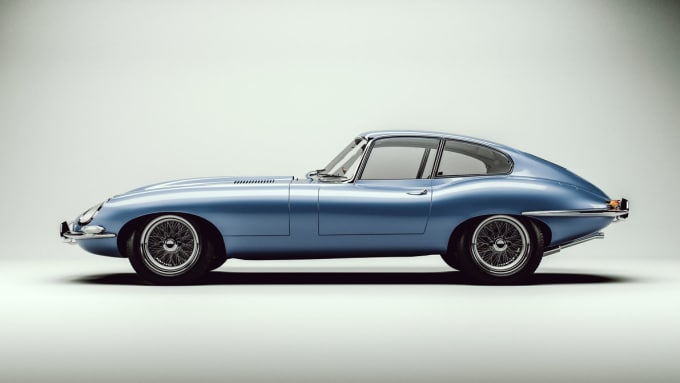 Few cars have the sheer elegance of the Jaguar XKE. This line of classic British sports cars ran from the early 60s to the mid-70s, and remains one of Jaguar's most highly acclaimed lines. 
During its era, the early Jaguar XKE's top speed of 150 miles per hour made it one of the most high-performance cars out there. If there's one car which exemplified high performance and high fashion during this era, it was the XKE. 
Morgan Plus 4
Morgan is one of those car brands we wish would come back, and it's the maker behind a bunch of the top classic British cars from the 50s. Classic British sports cars from this era had style, and if you took one look at the Morgan Plus 4, you'd see why they're loved. 
Sloping wheel chambers, a classic style, and a beautiful open air top made this one of the most popular cars for London's elite. The 1950s were a wonderful time, weren't they?
Morris Garages (MG) TC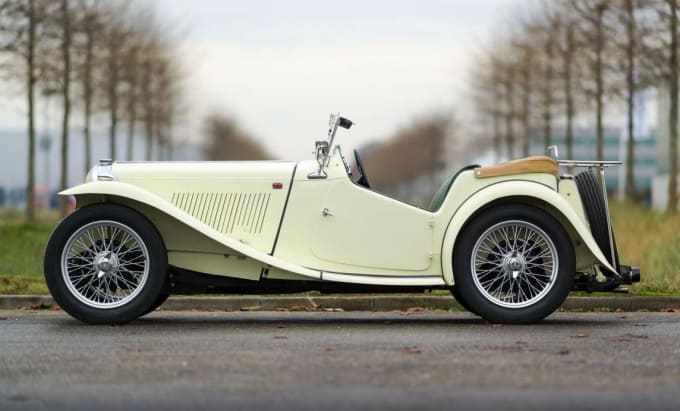 Back right after WWII and slightly before, Morris Garages was one of the biggest names in sports car design. In fact, Americans demanded MG TCs so often, they would even get shipped across the ocean despite having steering wheels on the right side of the car. 
This 1945 beauty exemplifies everything people love about classic British sports cars. It's stately, elegant, and at the same time, will still have your motor purring aplenty. 
Morris Garages (MG) MGA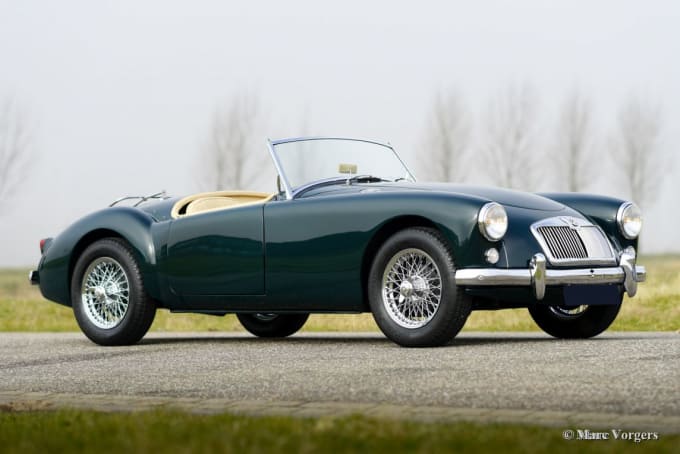 Another gem from MG is the MGA—and it's regularly credited as being one of the first real archetypes of a modern sports car design. The MGA was a breakout success and is one of the only classic British sports cars to be more commonly found stateside than in the UK. 
The MG MGA was so insanely popular, America's elite ordered over 100,000 of these cars. Only 5,000 or so were sold in Britain. Maybe it's the roar of the engine that brought all us Americans to the dealership? Or, maybe its the great body design. It's hard to tell. 
Austin-Healey Sprite Mark I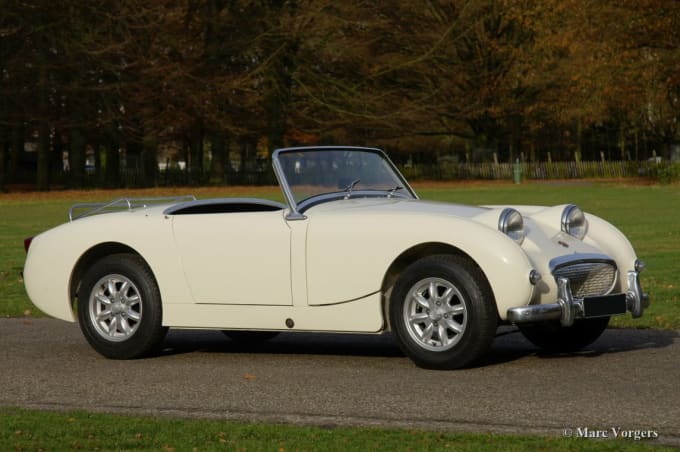 Quirky, petite, and undeniably cute, it doesn't take much to see what makes the Austin-Healey Sprite one of the most adorable classic British sports cars ever made. This zippy but fun car was petite and lightweight enough to rock rallies in the 50s, despite having a low horsepower of 43. 
Even today, private rallies bring this adorable "bugeye" car to life once more—and once in a while, they'll win. It remains even more popular than the MGB GT because of how pretty it is, too!
Jaguar XK-120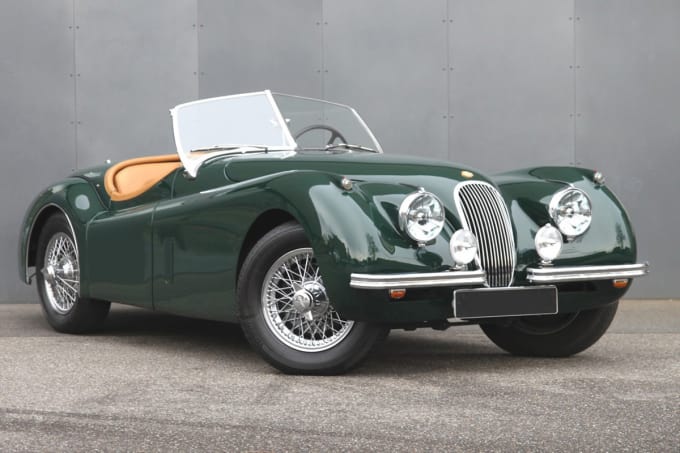 Jaguar XK-120 has a lot of style elements that give you a good idea of what one of the most beautiful vintage cars would look like if it was crossed with typical classic British sports cars. The end result is beautiful, especially if painted in a bright fire engine red. 

By the way, if you think that this is the last you'll see of the Jaguar brand on this list, you're absolutely wrong. This beautiful sports car was one of the hottest lines of the 40s and 50s because of its sleek, long-line design. 
Jaguar E-Type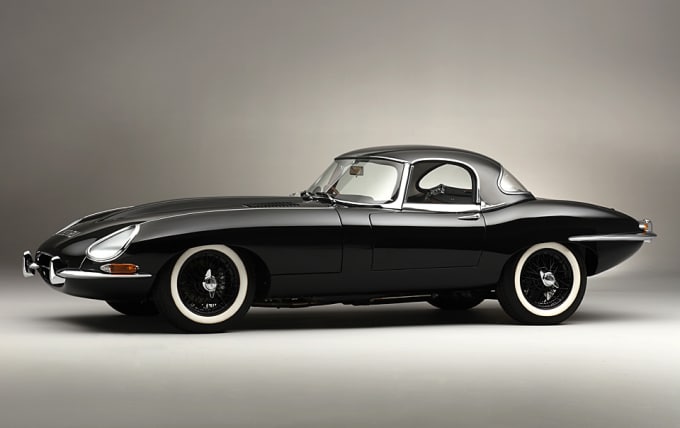 If there's one name among classic British sports cars that everyone recognizes, it's the Jaguar E-Type. This remains one of the most famous sports car lines to ever come from Jaguar, and that's saying something! 
During the 1960s and early 1970s, the Jaguar E-Type regularly stunned critics with its beautiful design and 260-plus horsepower. A rally favorite, it's now considered to be a major collector's item. It's a classic car that really earned its title as such. 
Triumph Spitfire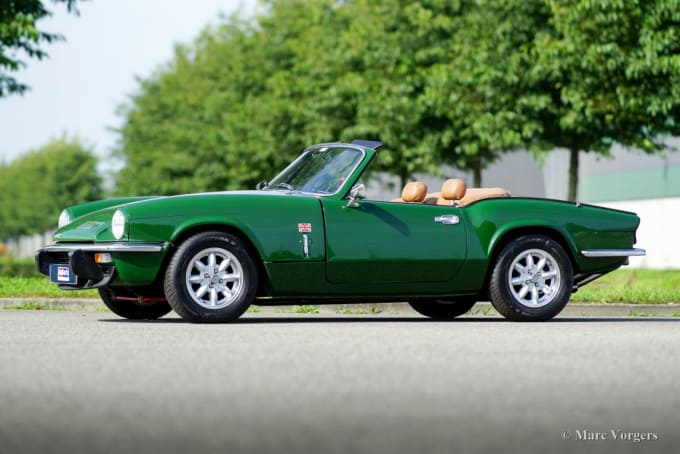 The Triumph Spitfire is pretty modern-looking, and could probably easily pass for a 70s Thunderbird to the casual viewer. Modern as it looks, it's actually one of the most popular classic British sports cars currently being privately traded. 
Believe it or not, these classic cars first debuted in the 1960s and remained popular in production until 1980. As one of Triumph's longest-running car lines, the Spitfire definitely blazed a trail for many other beautiful convertibles of its kind. 
Sunbeam Tiger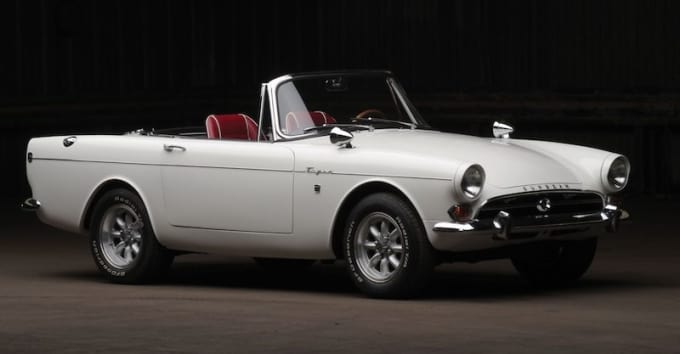 Sunbeam is one of the few vintage brands you almost never hear anyone mention—primarily because it's so obscure. Make no mistake about it, Sunbeam wasn't one of the terrible car brands we're glad is gone. It was a great brand. 

As far as classic British sports cars go, few machines of the time had quite as much power as the Tiger did. To a point, you might even want to call it the first pony car to come from Britain. When you pair that with its great appearance, it's easy to see why it's a fan-favorite. 
Bentley Blower
If you love the idea of driving a Bentley, you might as well take a look at the grandaddy of all classic British sports cars under the Bentley brand. This Bently Blower was one of the first race cars and sports cars ever built in Britain. 
Ever since 1927, Bentley has been a major mark of British sports car history. Technically, this was a road car rather than a sports car. However, at the time, the speed was what set it apart from a typical machine. It's amazing to see where we came from, isn't it?