NASCAR's "Win and You're In" Playoff System Needs to Change
NASCAR's attempt at creating artificial excitement surely has done that, but the system seems to push NASCAR towards field sports, as opposed to other motorsports.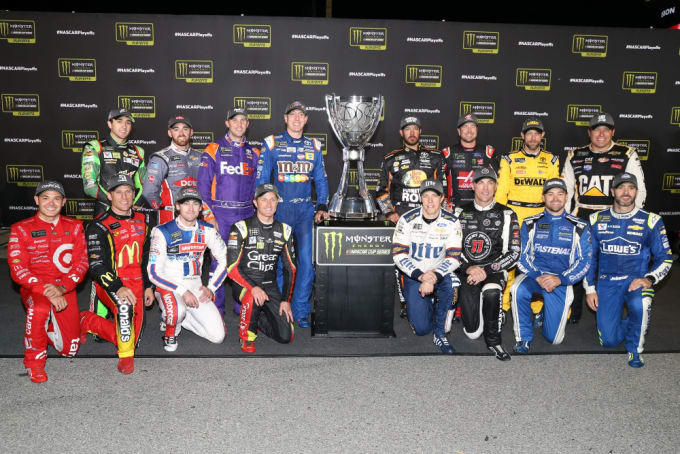 For those who do not follow NASCAR, there has been a "playoffs" system in place since 2004. Since its debut in the 2004 season, it has gone through various different versions. The current iteration, that was put into place for the 2014 season (with a tweak for the 2017 season), mimics a championship system seen in football. Sixteen drivers make the NASCAR playoffs, with a win being an instant pass in. Should sixteen drivers not win a race, then the rest are in on points alone. Once sixteen drivers are in the Playoffs, there is a series of three "rounds" with four races each, with four drivers being knocked out of the Playoffs after each round. The same rules apply: "win, and you're in." After the third round of four races, four drivers advance to the final race of the season, the Ford 400. Whoever of the final four drivers in the Playoffs finishes the highest wins the championship. For the 2017 season, NASCAR added "stages" to all of the races, with all races having three stages (with the exception being the Coca Cola 600, the longest race of the year). These stages award points to the top ten finishers at the end of the stage, ten for first and one for tenth. The first place finisher also receives a "Playoff point." The winner of the race also receives five of these Playoff points. Because all sixteen Playoff drivers' points are reset at the turn of a round, the Playoff points are added onto that reset number, giving a driver more points to start off with.
As a long-time NASCAR fan, I do not enjoy this system — at least this version of the system. I believe firmly that drivers should be rewarded on consistency more than on one random win. This system forces out drivers who have actually competed well consistently, and potentially reward drivers who have little to no business vying for a championship. For example, Kasey Kahne and Austin Dillon both have only one win this year, while running mid-pack when they weren't winning their one race. Because of this, a driver who ran consistently well yet had no victories, Clint Bowyer, did not make the Playoffs. Clint Bowyer this year has thirteen top tens. Kasey Kahne? Six. Austin Dillon? Four. Clint Bowyer has more top ten finishes than both Kasey Kahne combined, and has a higher average finish than both of them (Bowyer: 15.6, Kahne: 19.1, Dillon: 19.0), yet he is locked out of a championship run because two guys had random luck and won a race either due to half of the field wrecking out (Kahne, Brickyard 400) or based on a late-race fuel gamble (Dillon, Coca Cola 600).
Does this sound like a fair system? Does a system that reward mediocrity sound like a good system? To a long-time fan such as myself, it doesn't. 

So let's fix this system, shall we?
First of all, we ditch the entire "win and you're in" concept. It's a flawed system and only serves to give mediocre drivers a spot they don't deserve in the Playoffs. We can keep the elimination format, however. If NASCAR wants a system to create tension and excitement, then we'll let them have it, bless their hearts. Now the entire season is points-based, and we can have rounds where drivers are actually running their best the entire set of races, rather than sandbagging when they get their win, and subsequent pass to the next round. Not only will this create the hard racing that Stages were designed to bring in, but it'll create tension and excitement when fans can actually watch a sixteen-way, twelve-way, and eight-way battle to have hopes for a championship. Note how I didn't mention a four-way battle for the championship. That's right, we're doing away with the Round of 4. The final race will be put with the Round of 8 races, giving a five-race dash among the top eight drivers for the championship. With some shuffling of the Playoff schedule, we will have a diverse set of five races where (hopefully) no one driver has an advantage over another, and where one blown tire won't ruin someone's championship hopes. In other words, we have a fair system where a champion can actually be crowned from a set of races, rather than just one lucky race. 
As I mentioned above, with some shuffling, the final five races can be quite diverse. Currently the final five races take place at Kansas Motor Speedway (1.5 miles), Martinsville Speedway (0.5 miles), Texas Motor Speedway (1.5 miles), Phoenix Raceway (1 mile), and Homestead-Miami Speedway (1.5 miles). See a problem here? The entire final five races are 1.5 mile tracks. However, we can fix that. Ideally, every race in the final stretch (the Championship Round, we'll call it) will be different. 
The first race at Kansas would ideally be swapped for Talladega Superspeedway. Considering the International Speedway Corporation owns both of these tracks, there shouldn't be a problem with a swap in dates. Next, we swap Texas Motor Speedway with Charlotte Motor Speedway. Now you're probably thinking, "But, wait. Charlotte is a 1.5 mile track too!" and to that I raise to you: the roval. That's right, the 2018 Bank of America 500 (Playoff race) will be held on the Charlotte roval. So assuming this stays, we would have a "road course" in our final five races. Luckily, again, Charlotte and Texas are owned by the same company, Speedway Motorsports, Inc., so having a swap shouldn't be a very big deal. 
So with those changes, we've now created a system where points matter throughout the whole season, and sandbagging wouldn't be an option if a driver wanted a shot at a championship. We keep stages and stage points, and we keep the elimination. NASCAR gets its excitement, and the fans can see a champion crowned based on consistency rather than a couple good races. Some people may cry "But wins should matter!" and they do matter still. Remember, the winner gets a whopping ten playoff points for winning a race, on top of at least 40 regular points for winning, as well as a max of 20 stage points for winning both of the stages. The only thing changing with this "New Playoff" system is getting drivers who don't deserve a Playoff spot out of the Playoffs. No more mid-fielders in the Playoffs, and all the more legitimacy to winning the title in the eyes of fans such as myself, where consistency matters, where being consistently the best driver overall matters more than just winning and then finishing outside of the top twenty the next week.