Furious 7: One Last Ride - Contains SPOILERS
Friday 3rd April 2015 was the release date for Furious 7 (also known as Fast and Furious Seven).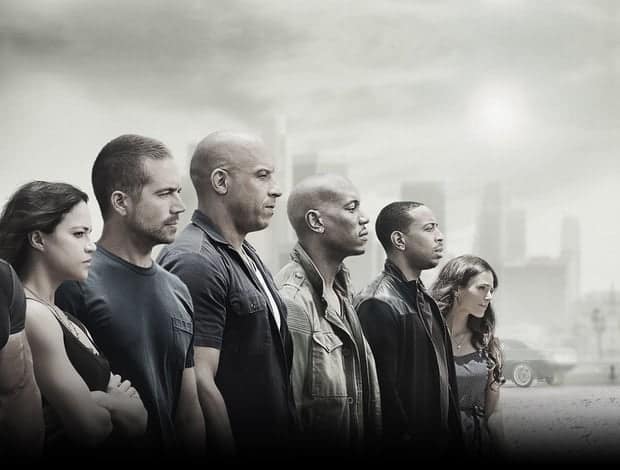 This Article/Review WILL contain SPOILERS. Read at YOUR OWN RISK!

Friday 3rd April 2015 was the release date for Furious 7 (also known as Fast and Furious Seven). Furious 7 is the sequel to the 2013 film Fast and Furious 6. The film is written by Chris Morgan and is very well directed by James Wan. The film marks the final appearance of Paul Walker who died in November 2013 in a car accident. The film should have been released earlier, but due to Walkers death, filming had been delayed.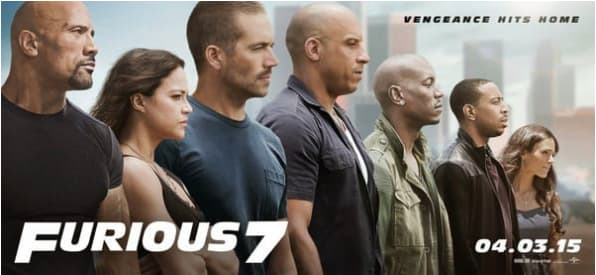 Basic Plot - SPOILERS! - Read This Section At Your Own Risk.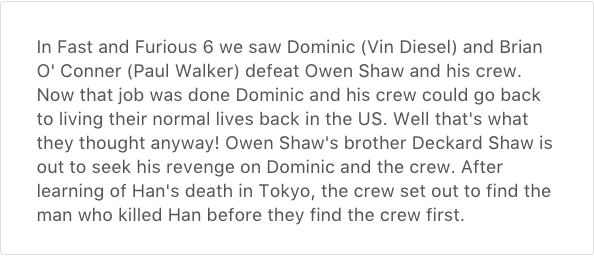 Deckard breaks into Hobb's DSS office to investigate Dominic's crew. A fight suddenly breaks out and Hobbs ends up in hospital and Shaw escapes.
Back at Dominic's House, Dominic gets a phone call from someone he doesn't know. A confused Dominic looks down at his phone and realizes that the phone call is from Tokyo, Japan which is where Han was killed. Dominic looks round and notices a box out side his house with Japanese writing on it and realizes it's a bomb. With Brian and his wife putting their son in the car the house suddenly blows up. Brian takes a smack to the head on the car door as he shuts it to protect his son. All is good and no one is hurt. Later on Dominic visits Hobbs in hospital and is told that Deckard Shaw is out looking for him.
The day of Hans' funeral arrives. All is well until Dominick notices a Maserati observing and analyzing the scene. Dominic knows who it is and decides to get in his car and go after him. After minutes of chasing, Dominic has a head on crash with him, practically crushing both cars. Then another fight breaks out, but Shaw slips away fast when Frank Petty and his ops team arrive to save him. Frank tells Dominic that he will help him capture and kill Shaw under one circumstance. Helping Frank get hold of the 'God's Eye'. The 'God's Eye' is a computer program that can hack into every device that is connected to any network. After the crew fly their cars out of a plane, yes a plane, they have to crash a penthouse to free the device and it's creator 'Ramsey'.
Many crashes later, the crew attempt to actually capture Shaw but are distracted attacked by Jakande and his crew, who manage to get hold of the 'God's Eye' in the attack. With Frank Petty injured, Dominic and Brian take on Shaw in their home town LA. Whilst battling Shaw, Ramsey is used to hack into the 'God's Eye' whilst keeping hidden in a number of vehicles. With a bit of help from Hobbs, they are able to capture Shaw and kill Jackande. Dominic is involved in a serious car crash here and is pulled out the car wreckage by Brian. Dominic begins to lose consciousness, but as Letty tells him memories of him and her he manages to regain his consciousness. This was a moment when everybody was shocked as well all though Dominic wasn't going to make it. But we're all happy to see that he made it.
As the film comes to a close, we go to a beach scene where Brian and Mia are playing with their son. Dominic and the rest of the crew decide that it's best that Brian puts all this action behind him and spend the rest of his life with his wife and son. Dominic leaves without Brian noticing and gets in his car and depart, but it isn't long until Brian catches up with Dominic at a stop sign. This is sadly where they say their final farewells to each other and drive off in different directions. Happy ending!
Paul Walker's Brian O' Connor Gets A Happy Ending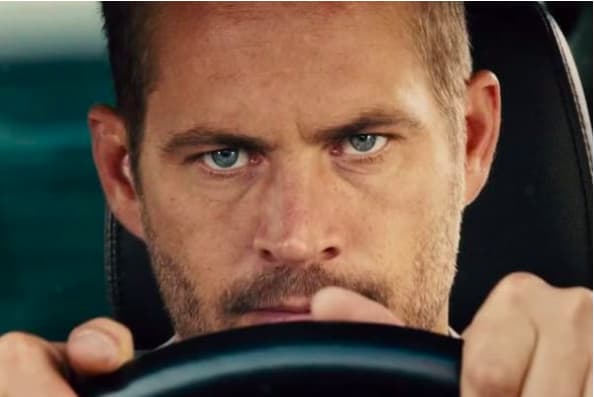 In November 2013, Paul Walker was involved in a fatal sports car crash which had cost him his life. The world was shocked by this news and thought Furious 7 would not go ahead as Paul Walker did not complete his filming. But the writer Chris Morgan edited the script so that they could CGI Paul in with old footage that could be used in Furious 7. This was roughly half the film. The CGI is so good that you can't actually tell a difference on what was real life acting and what was CGI. The Fast and Furious team announced that Furious 7 would go ahead and give Brian O' Connor a happy send off as he retires from all the action to live with his family.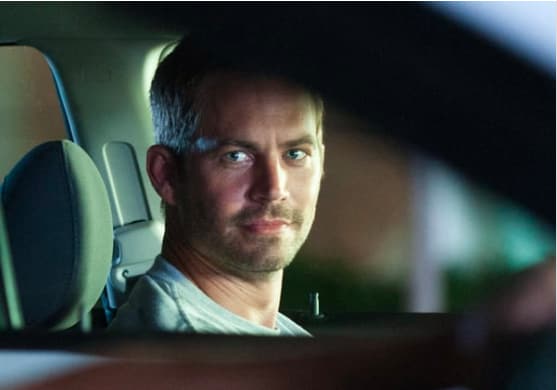 The film finishes off with a white screen with the words 'For Paul' appear. The team decided to dedicate the film to Paul Walker after his fatal accident.
When Paul passed away Vin Diesel was shocked and upset by it:
"It's one of the darker moments in this, in my journey. Yeah. Yeah guys, you know it's a rough one. You all had people you love that passed away" - Vin Diesel
"The brotherhood in Paul Walker was something completely different". - Vin Diesel
Actor Vin Diesel admitted he struggles to watch the "Fast and Furious" franchise following his co-star Paul Walker's death.
Will The Fast And Furious Franchise Continue After Furious 7?
As Furious 7 saw Brian O' Connor retire, nothing stops the franchise from continuing on. But is it likely to continue? Universal Studios have revealed that they plan on 3 more Fast and Furious films. This makes 10 films in total.
Universal Pictures chairman Donna Langley had this to say:
"We think there's at least three more. Paul Walker is, and always will be, an integral part of the story. But there are many other great characters, and it's also an opportunity to introduce new characters. I think it's still a growing franchise. We'll see what happens with Furious 7, obviously, but our box office has grown over the past three or four films and internationally, in particular. So we think that there's more to mine there. But we're of course very mindful about fatigue."
If it continues Universal plan on a 3 film finale. But will director Justin Lin stick around for these films? Beyond Furious 7, Lin is set to direct the first two episodes of True Detective's second season, but otherwise his schedule appears open for more Fast and Furious films.