Essential Winter Car Accessories to Keep You Warm
With Jack Frost nipping at your toes, these awesome winter car accessories can help keep you warm (and safe) throughout winter.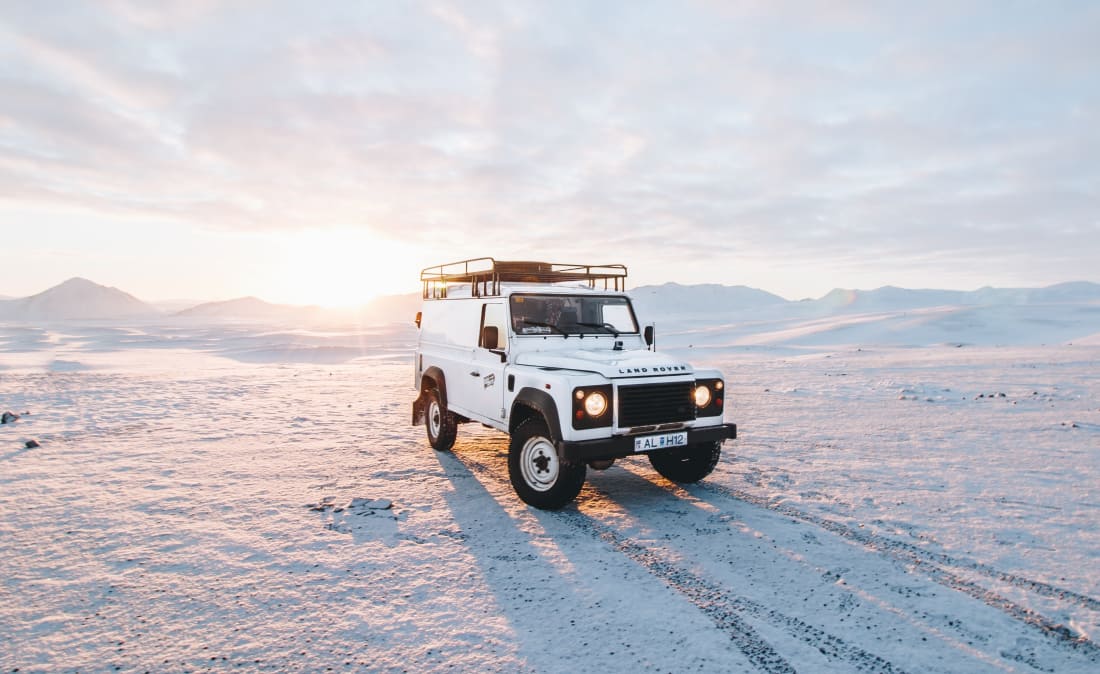 There's something super-comforting about riding in a toasty warm car in the middle of a blisteringly cold winter. It makes you feel snug as a bug in a rug, and to a point, also makes travel way more attractive during the winter months. 
If you have an old car, you might not know the luxury that is having a cozy travel time during the winter — but that doesn't have to continue to be the case. 
You might have snow tires prepped for winter driving and think that's all you need to face the snow with ease. However, if you care about comfort, you're wrong. 
The right winter car accessories can keep any car, old or new, feeling toasty as a spot by the fireplace. 
SmartStart by Viper
Ever wish you could just hop into a preheated car and go? Well, with Viper's SmartStart, you can. This easy-to-install app-controlled remote car starter allows you to let your car warm up for 10 to 15 minutes before you hop in — which allows your heater to warm up and give you a nice, warm road trip experience right from the start. 
300 Watt Magnum Magnetic Engine Block Heater by KAT
If you want to get your air feeling nice and toasty, you're going to need to wait for your engine to warm up. KAT's Engine Block Heater easily installs underneath your engine block and warms your airflow quickly. The end result is a piping hot car almost immediately after it starts. 
Heated Car Thermos by Rely2016
One of the better perks of having great winter car accessories that make your commute cozy and enjoyable in more ways than one. This 12-volt car thermos allows you to cruise on streets while sipping a piping hot cup of tea or soup. If you're a fan of warm food and drink on cold days, this is a must-have item for that rough morning commute. 
Since everyone loves soup or is a bigtime coffee lover, this is one of those tech accessories every nomad should have. 
Microfiber Steering Wheel Cover by Valleycomfort
Perhaps one of the most underrated winter car accessories out there is a nice, velvety steering wheel cover. This steering wheel cover keeps hands warm during the winter and also helps absorb sweat during the summer. Better still, it's stylish enough to be worthy of a compliment from passengers.
Heated Windshield Wipers by Thermablade
If you're like me, you probably abuse the crap out of your windshield wipers by conveniently using them to shove tons of snow off your car's windshields. Thermablade's heated windshield wipers are designed to help melt snow, improve driving conditions, and work well-year round. As such, they're one of the more useful winter car accessories you can buy in a pinch. 
12-Volt Heated Seat Cushions by AmazonBasics
Heated seats are one of the best ways to keep warm in a car during the winter, and if you don't have them standard in your car, you're missing out. Thankfully, AmazonBasics came up with a very awesome heated seat cushion that will keep your tushy warm throughout the wintery months. 
Windshield Ice Cover by OxGord
This is one of those winter car accessories that is just as useful during the summer. OxGord's windshield ice protector slips on your car effortlessly and stops you from having to spend time scraping ice off your windshield so you can get to work. Less time in icy weather means more time in a warm, possibly preheated car. 
Mirror Mittz by iceScreen
Heated mirrors are becoming more popular too, but for those of us who don't have that luxury, iceScreen's Mirror Mittz are a perfect way to avoid frost buildup on your mirrors. Just slip them on at night and remove them during the day — and ta, da, your car could be ready to drive anywhere you want, the moment you wanna get away. 
66-Piece Severe Weather Kit by AAA
Even with the best preparation, there will be moments where your car is just not going to be safe on winter roads. That's why AAA made this massive 66-piece severe weather kit for drivers who know they may end up getting caught in the snow. If you're worried about safety, this survival kit will possibly save your life and give you the peace of mind you need. 
Heated Fleece Blanket by Sunbeam
One of the coolest winter car accessories for travelers looking to stay warm is this toasty, comforting blanket. With multiple temperature settings, sturdy material, and timed heating setups, this blanket will make sure you stay extra toasty during those super cold nights in the car.