Best Motorcycle Helmets for Every Type of Rider
These motorcycle helmets will provide the best protection as well as comfort and style.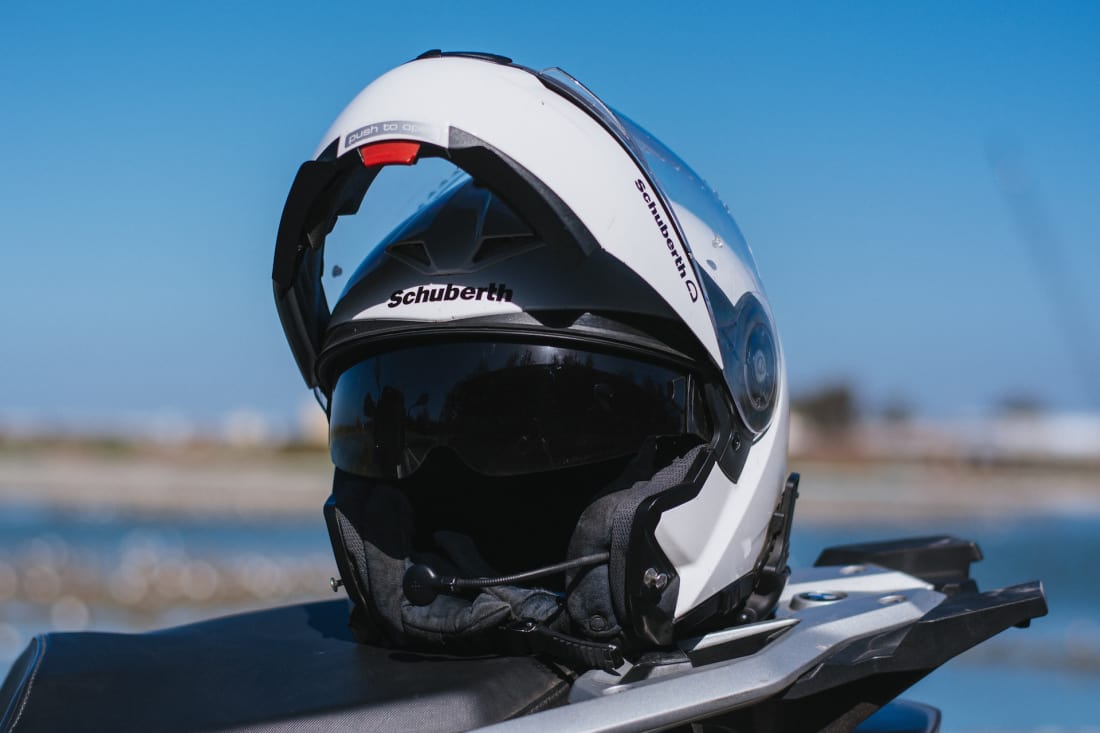 As a motorcycle owner, purchasing a helmet is one of the most complicated processes, considering the range of choices. It should be taken very seriously, and is important to understand each of your options. That's why we have come up with a list of the best motorcycle helmets for any rider. 
We have considered comfort, security, protection, design, and structure when choosing each of these products. And ultimately, this list holds some of the most quality products for the best security with each trip. Whether you're a first-time rider, or are looking for an upgrade on protection, these are the best options for any motorcyclist, all found on RevZilla. 

Verge by Thor
The Thor Verge is one of the best motorcycle helmets for ventilation and coverage. With a three screw visor and front intake vents, this product provides ample coverage, while still providing airflow from side vents, rear exhaust vents, and a reinforced chin bar. 
It also has a washable liner that is antibacterial and moisture wicking that can be easily removed and provides lots of comfort throughout your rides. Plus, this helmet can be used in competition, as it meets FIM and AMA requirements, as well as meeting DOT standards and being ECE 22.05 approved. 
Pista GP R by AGV
The AGV Pista GP R Carbon Project 46 2.0 not only has metal air vents, but an integrated hydration system that is created for riders who need the most innovative structure to capture the best airflow possible. 
As one of the best motorcycle helmets for taking on high speed, this helmet has multiple wings that add stability. Plus, it includes an adaptable fit and has zero stitching that will not affect sensitive areas of the face or head. 

Drak by Shark
Keep your head cool, protected, and guarded against any debris. Great for off-roading activities, the Shark Drak helmet is designed with the most security possible. With thermoplastic resin and natural fiber interior, the helmet has a ventilation system of air vents and diffusers, as well as a visor to prevent fog and scratches. 
A D-ring closure and aerodynamic outer shell are also aspects of this product that make it stand out from the rest. Choose from two sizes, and ride with confidence. 
C3 Pro by Schuberth
The Schuberth C3 Pro Helmet makes it on the list of the best motorcycle helmets because of its advanced technology. 
Advertised as one of the quietest helmets in the world, the C3 Pro has aeroacoustics of 82 dB(A) at 100 km/h. Plus, it includes two antennas for Bluetooth accessibility as well as FM radio reception. And the interior has a universal fit and large panels on the neckroll. What more could you want from a helmet? 
RF-1200 by Shoei
As a product that promises wind-noise reduction, lightweight feel, and aerodynamic shape, the Shoei RF is one of the most versatile options when it comes to the best motorcycle helmets. 
With protection and performance in mind, this helmet is slim and light with great ventilation. Plus, the 3D Max-Dry System II Liner provides ample comfort. Choose from four shell sizes, and ride with security. 
Star Pace by Bell
The Bell Star Pace's first generation of helmets created a safety revolution for motorcyclists. This fact alone is reason to trust this brand's motorcycle helmets. 
As its latest release, this helmet has been redesigned to provide a better fit and lightweight feel, with a smaller profile that is great for the upright riding position. With safety and comfort in mind, the Bell Star Pace is great for street riding. Plus, it's eyewear compatible and comes in six EPS and five shell sizes. 

Airmada Rubatone by Iconic
As one of the most durable helmets in the motorsport world, the Icon Airmada Rubatone is injected with a molded polycarbonate shell that provides the best strength for any type of driving. 
With adjustable chin and forehead vents, the airflow system is made to maintain the correct temperature for even the hottest days, and feels great. Plus, it's available in four shell sizes and has met all world standards. 
Corsair X IOM 2017 by Arai
As one of the best motorcycle helmets that was created with direct impacts as well as "glancing off" impacts in mind. This is important to Arai Corsair X IOM's production because of the variety of situations this helmet can perform in. 
With a PB SNC2 Shell that is made with Super Fiber, the helmet is both lightweight and provides a face shield for extensive protection. Plus, there is a 5mm ear pocket padding, as well as communicator speakers. 

CL-17 by HJC
With both advanced ventilation channels and a Pinlock-ready face shield, the HCL CL-17 helmet is designed to prevent against fog, provide airflow, and protect against any unwanted debris or bugs. 
The crown and cheek pads and a side face shield lock mechanism create security, as well as comfort. There are plenty of colors and designs to choose from.
Qualifier DLX MIPS by Bell
To finish off our list of the best motorcycle helmets, the Bell Qualifier DLX MIPS Helmet is a matte black lightweight helmet that was created with Mult-Directional Impact Protection System. With a breath deflector, chin curtain, cheek pads, and integrated speaker pockets — this product has it all. 
Plus, it has a UV protected shielder that prevents fog and scratches. It comes in three shell sizes, and has a great price.