Awesome Gifts For People Who Love To Drive
These slick gifts for people who love to drive will make cruisin' more fun than ever before.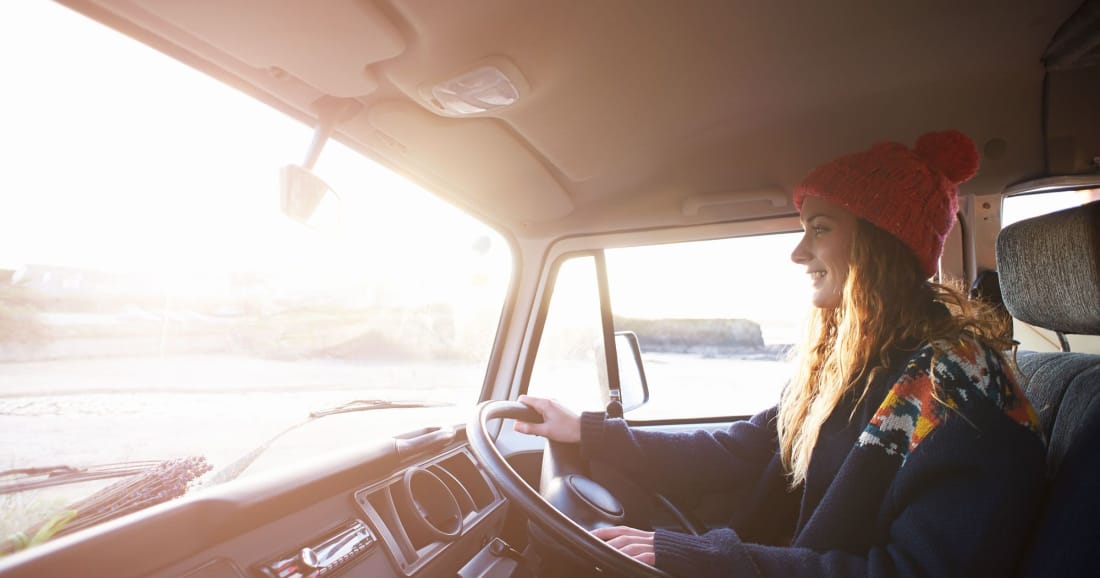 Finding gifts for people who love to drive shouldn't be as hard as it is. After all, driving is a simple pleasure, right? Well, you'd think so, until you realize how hard it is to find a car part or cheap car mod to gift your buddy with. 
If you're looking for a great gift for that special person who manages to legitimately enjoy their commute or their regular cruise down the city streets, check out this cool gift guide. 
We packed it with great gift ideas for every kind of driver out there—including NASCAR drivers, speed chasers and sports car lovers alike!
Already Gone Leather Driving Gloves by Nixon
Among gift ideas for people who love to drive, driving gloves are a no-brainer. It's going to be January soon, and that means blistering cold weather. Ladies who love to drive will want to keep their hands protected when they choose to do a little late night cruising. 
These soft and supple driving gloves offer great wheel grip, without sacrificing style. The end result is a delicate pair of driving gloves that are perfect for ladies who want to drive in style. 
Ponycrate by Cratejoy
One of the best gift ideas for people who love to drive their Ford Mustangs is a subscription to Ponycrate. This subscription service gives the recipient a slew of goods, all dedicated to the Ford Mustang car community, or to the maintenance of one of the best muscle cars of all time. 
No matter how old or new your friend's Mustang is, Ponycrate will make them and their car happy. It's definitely a car fan-approved gift that will make friends jealous. 
Saint Des Saints Rubber Incense by Frederic Malle
If you're looking for one of the most upscale gifts for people who love to drive in style, look no further than Frederic Malle's new rubber incense line from Barney's. Rubber incense is the new way to diffuse high-end essential oils in any environment—including your car!
This particular blend is inspired by Indian temples and features a warm, herbal-floral smell with slight hints of musk. In other words, it's a massive upgrade from the stupid pine tree air freshener they got from the car wash, and they'll love it. 
Driving with the Devil: Southern Moonshine, Detroit Wheels, and the Birth of NASCAR by Neal Thompson
Neal Thompson knows how to write an amazing story, and he was able to create one of the coolest gifts for people who love to drive while pretending to be NASCAR drivers. Driving with the Devil is all about the story of how NASCAR came to be. 
There are amazing twists and turns, as well as thrills you never expected to see. Historic, sporty, and with enough car facts to get gearheads going, Driving with the Devel is a great gift for NASCAR fans and car geeks alike. 
Faux Diamond License Plate Frame by Bell Automative
Bell Automatic's license plate frames are known for being easy-to-install, durable, and chic at the same time. If you're looking for gift ideas for people who love to drive and flaunt their car in low-key ways, then look no further than Bell Auto's Diamond License Plate Frame.
The "diamond" studs glitter in the sun beautifully, and are attached to a corrosion-proof diamond-cast frame. It's a car accessory your friend will love!
New York Transit Token Lock Keychain by Ward Wallau
One of the safest gifts for people who love to drive is, plain and simple, a new keychain. However, if you're looking for an amazingly cool keychain, the options are pretty hard to figure out. We're really digging this gorgeous locking keychain made from a real NYC Transit Token. 
A perfect present for the NYC commuter, or just a fan of the Big Apple, this is one cool gift that will make them think of you every time they grab their car keys. 
Vent Car Phone Mount by Kenu
When you're looking for cool gifts for people who love to drive, you might as well do what you can to help them avoid tickets. This vent-mounted phone mount allows drivers to chat with people hands-free—and that means no ticket for them. 
This car mount works with all major iPhones, as well as small to medium-sized Android cell phones. Hands-free driving got a bit easier, and has become a way more doable choice. 
Awesome Keychain Volume 1 - GotG Exclusive by ThinkGeek
Rocket Raccoon, Groot, and Drax—all on one slick track, erm, keychain. Yes, this is one of the most awesome gifts for people who love to drive while being total geeks. That's what makes this an awesome stocking stuffer, or just a great affordable gift for Secret Santa parties. 
Gulf Navy Logo Hat by Gulf Racing
Sometimes, you don't really need to keep things highbrow or geeky when it comes to finding great gift ideas for people who love to drive. Those who are into NASCAR will find this awesome Gulf Racing Logo Hat to be a serious dream come true. 
Even if they aren't actually driving on a race track, you can still feel the classic old-school vibes coming off of this hat, can't you? Of course you can. Gulf's been in the racing circuit as a sponsor for ages!
Faux Diamond License Plate Frame by Bell Auto
If you're looking for utilitarian gifts for people who love to drive, why not give them a new way to power their phones, mp3 players, vape pens, and more? Just get them a cool matching USB cable car charger, and they'll be thanking you for it. 
After all, everyone loses USB port car chargers—so getting a replacement that's as cute and as stylish as this will definitely be a gift that will be warmly received.